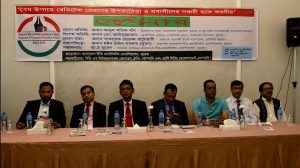 There are more than 3 hundred thousands expatriate Bengalis in Kuwait. They remmit there one through various ways. Many of them don't know the usefulness of remmitting legally. Many of them don't save anything in their years of expatriate life. With the welfare of expatriates in mind- Bangladesh TV journalists association in kuwait in association with BDS International General trading company and with the entire help of Holy living development company had hosted a seminar under the banner headline: Importance of remmitting money in legal channel and how to encourage expatriate's savings habit.
The seminar took place in City tower hotel of sark area in Kuwait City;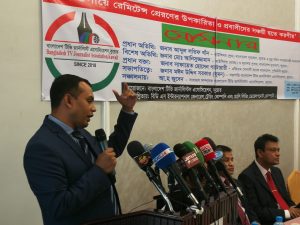 Journalist Mr. Moin uddin sarkar (sumon) president of Bangladesh TV journalist association kuwait had presided over the seminar, and the general secretary Mr.A.H. Jubed had conducted it while the senior community personalities delivered speeches in the seminar. As the chief guest in seminar Mr. Abdul latif khan the counselor (labor) of Bangladesh embassy Kuwait, and the joint Secretary of the government of Bangladesh had elaborate the main topic and answered many questions as well as described a lot of government initiatives taken for the betterment of expatriates.
The special guest the counselor (pol) Mr. Anisuzzaman had assured that he will inform the relevant authority about reasonable demands of expatriates.
The chief speaker of the program – Mr. Safayet hosen Patwary A.G.M. Sonali bank Bangladesh, as he is about to leave Kuwait after seven long years had shared his experience and pointed out the usefulness of remittance in legal channel and what initiatives are needed for expatriates betterment to make savings habit.He also had answered many questions from the expatriates.
As special guests there were chaired on the stage Biman Bangladesh Airlines country manager Mr. Hafijul Islam, B.D.S. International general trading company, and Holy living company's C.E.O. Mr. Safiqul Islam, President of the human right journalist forum and senior journalist gallant freedom fighter Mohammad Yakub, and Kuwait expatriate dignitaries, Executives of Bangladeshi companies, exchange officials, and young importers of Bangladeshi goods abroad.
U.A.E. Exchange's operations manager Mr. Manirul Islam, Aman exchange's area manager Mr. Yousef Ali chowdhury had elaborated facilities for expatriates in their establishments. Dignified community leader Mr. Sattyaranjan sarkar had presented his well composed speech with fact and figure.
Journalist Mr. Moin uddin sarkar (sumon) in his presidential speech had explained the reason behind arrangement of such a seminar; many of the expatriates don't know benefits of remmitting in legal channel, many think it burden and personally save nothing, they entrust their families over years and finally find themselves cheated and in meager position. It is happening very often.
He had emphasized on how the expatriates be encouraged to save easily and to inform them the government initiatives in their betterment, and also he reiterated on needfuls to reach the expatriates voice to the government.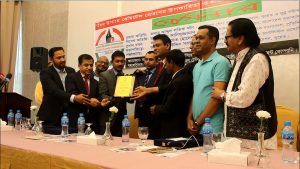 At the end the special crest of honor had presented respectively to Mr. Abdul latif khan-the labor counselor Bangladesh embassy in Kuwait, and the joint Secretary of Bangladesh government for his outstanding service to the expatriate Bengalis,
To Mr. Mohammad Anisuzzaman the chancery chief and counselor of Bangladesh embassy Kuwait for his cooperation and entire assistance in workplace of Kuwait expatriate journalists. To Mr. Safayet hosen Patwary the Sonali bank representative in Kuwait for encouraging expats to remmitt in legal channel. And to B.D.S. International general trading company and holy living development company special crest of honor was presented for their contribution in making arrangement of such successful seminar in interest of expatriates Bengalis in Kuwait.
The honor was conferred to the distinguished guests by the executives of Bangladesh TV journalists association, Kuwait.
In the beginning verses from the Holy Quran was recited by the vice president Mr. Sharif Mohammed Mizan. Introductory speech was delivered by vice president Mr.Ehsanul haque khokan. The entire program was orchestrated by the senior vice president Mr. Mohammed zalal Uddin. A vast number of Bengali expat community leaders, men of letter, dignitaries had participated and made the seminar a successful endeavor.