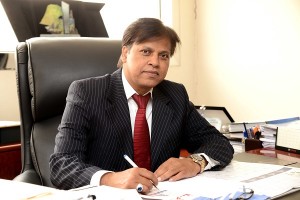 Mohd. Shahid Islam, MANAGING DIRECTOR
and CEO of Marafie Kuwaitia Group of Companies, has taken the enterprise to great heights since its establishment
in1997. He says much of this credit
goes to the dedication of staff and the high quality services the company provides. Taking time from his busy schedule, Mr. Shahid Islam recently spoke with The Times Kuwait about his life and business.
Hailing from a leading Muslim family in Bangladesh, Mr. Shahid Islam had a relatively comfortable early life. His father who was in the military, wanted him to join the army; "But from the beginning, I wanted to be a politician and create changes in my country. I still believe that politics and economy are the backbone of any country," said Mr. Shahid Islam.
However, he could not pursue his ambition to be a politician because his parents disagreed with his plans; they felt that politics was an unstable profession and moreover it was filled with corruption. His next desire was to be a film actor, as the father of one of his closest friends was the famous Bangladeshi actor, Razzak, who was known as the king of Bangladeshi film industry. "But my mother again voiced her displeasure with my choice and that's how I finally ended up choosing business as my profession. Even before my graduation, I started a shipping business, but that did not work out. So, when I got an OPPORTUNITY
to come to Kuwait in 1992, I seized it and arrived here to join a US-based company called Vector Marketing."
Since venturing into business, Mr. Shahid Islam saw many failures and lost a lot of money
; but through perseverance and after struggling for many years, he finally joined the Marafie Kuwaitia Company. "Joining the company changed my life completely. I joined as General Manager
and when my British boss decided to leave the company, I was appointed as MANAGING DIRECTOR
& CEO of the entire company. Since then, I have been working
for the betterment of my staff so that through their diligent work the company has over the years benefitted. Though now, I am the Partner, MANAGING DIRECTOR
& CEO of Marafie Kuwaitia Group of Companies, the transition from General Manager
to MD & CEO was not an easy one; I had to face many challenges. There were times when I wanted to give up and go back to, but I kept moving and sheer perseverance brought me to where I am today."
Today, Marafie Kuwaitia has three branches and offers nearly a dozen different services, including facility management
, rental and leasing of heavy equipment, military logistics
, Electro mechanical, electrical construction and engineering & maintenance, as well as General TRADING
& Contractong and providing HR support services.
Through his strong leadership and management
skills he has successfully expanded the company's business activities all over the Middle East, including in Bahrain, Jordan, Qatar, Egypt and UAE, as well as in Singapore. He is also the Partner and Managing director
of various other firms, such as Director of Crystal Energy Limited (CEL) in Bangladesh and Omera Energy in Singapore. He is also an active member of the American Business Council of Kuwait (ABCK), Director of Board of NRB Commercial Bank of Dhaka and Chairman of Risk Management Committee (RMC) of NRB Commercial Bank of Dhaka and Director of United Al-Ektesad International Money
Remittance Company.
Talking about his great deal with Tata Motors in India, he said, "We have a great deal with Tata Motors in GCC. I am among the first to purchase Tata trucks, pickups and buses in GCC and I have bought more than 400 plus vehicles in the last three years. The project I am working on is very large and I am looking forward to successfully completing it."
About his initial ambition to be a politician, Mr.  Shahid Islam says, "I could not become one, but my vision is for my daughter to become a politician and bring about changes in society. She is already involved in a lot of social work in Bangladesh with her friends helping people with homes , orphanages, free medical facility for senior citizens and helping children get education and so on. I would like her to continue this on the international level as well." Mr.  Shahid Islam says," I want my daughter to follow the footsteps of Mr. Narendra Modi, the Prime Minister of India.
Meanwhile, his vision for Marafie Kuwaitia remains to build his organization so that they can help in the development of Kuwait. Mr. Shahid Islam's unique guiding principles of scientific excellence, ethics and integrity and above all, putting customers first, have allowed him to take his company to a whole new level and engage in businesses around the world. He adds that his focus is on implementing strategies successfully to meet the challenges and OPPORTUNITIES
offered by the ever-changing business environment.
As founder of Marafie Kuwaitia Group of Companies he has brought together many of his diverse business interests, so as to CAPITALIZE
on the synergies and skills available in the wider group. His success and rise to success began as the dream of one man which has now extended and transformed into the dream of many.
report from timeskuwait by
Madhuri Awale