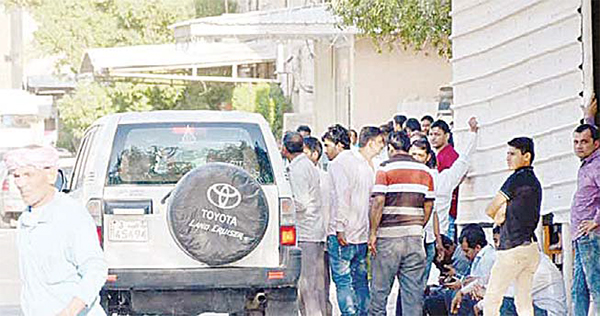 Marginal workers crisis still unresolved in Kuwait – Visa traders continue exploitation. KUWAIT CITY, Jan 13: The crisis of marginal workers moving about aimlessly in the country has snowballed into a serious and complicated issue as it remains unattended, especially as no decisive step has been taken to stamp out the activities of visa traders who take undue advantage of expatriates paying huge sums for visa who ultimately find themselves in the streetsas they end up without jobs to sustain them .
As a measure to ensure they make ends meet, some unfortunate expatriates willingly turn themselves to casual workers on a daily basis while others engage in crimes mainly because they are in massive debt in their home countries. These individuals took loans to obtain visa with the hope of offsetting it when they begin to collect fat salaries in Kuwait.
A recent announcement by the Ministry of Social Affairs and Labor, saying it won 500 cases against visa traders is probably a good evidence to prove the rate at which this menace has escalated.
According to statistics, there are 411,838 workers in the construction sector, of which 13,458 are Kuwaitis and the remaining 398,380 are expatriates. Kuwaitis among them are either company owners, engineers, contractors or other professionals. The majority of expatriates are non-specialized workers used in the construction and finishing stages of works. The pathetic aspect of the situation is that many expatriates are only registered under the companies by name, but in reality, they are forced to work in other places or roam about the streets or open spaces and roundabouts from early morning with the hope of getting causal jobs to sustain them. Many of them are employed to demolish walls, carry loads for people who change accommodation or minor construction works.
Statistics revealed that Public Authority for Civil Information was yet to ascertain the nature of jobs of 202,708 expatriates as at the middle of 2018, so they were categorized under "unclear nature of job". Jamal Abdou said he entered Kuwait in his early 30s in 2014 and paid KD 1,450 to a visa trading company, but he was shocked to discover the company provided only visa without job. He was forced to take up odd jobs since he is the breadwinner of his family and could not return home without refunding the loan he took to pay for the visa. "Worse still, I am obliged to pay KD 750 every two years when I want to renew the residency and this is the only way I can avoid a situation whereby the sponsor declares me absconded," he narrated.
As for Awadh Rizq, he is 47 years old taking up casual job on a daily basis. He has not been able to renew his residence for two years and gets KD 8 per day, so his priority is not about daily meals but how to gather a minimum of KD 30 per month for his children to remain in school.
While 72 year old Zaki Hamid explained that he sold livestock and half of his farmland to enable him raise money for Kuwaiti visa to help him renovate his dilapidated building and live a meaningful life. However, he was disappointed upon reaching Kuwait 12 years ago, indicating his dream has never been close to reality, as his house remains dilapidated until date!
Marginal workers crisis still unresolved in Kuwait – Visa traders continue exploitation