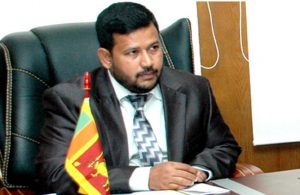 Dhaka: Sri Lankan Industry and Commerce Minister Rishad Bathiudeen has said Bangladeshi pharmaceuticals are of international standard which are being exported to over 200 countries.
He said Bangladesh pharmaceutical industry will experience a bright future if they invest in Sri Lanka.
Rishad Bathiudeen said this at a meeting organised by Dhaka Chamber of Commerce and Industry (DCCI) and Sri Lanka Bangladesh Chamber of Commerce and Industry (SLBCCI) at a city hotel recently, said a press release on Saturday.
Sri Lankan High Commissioner in Dhaka Yasoja Gunasekera was also present during the meeting.
Welcoming the Sri Lankan Industry and Commerce Minister to Bangladesh, DCCI President Abul Kasem Khan said Sri Lanka is one of the closest neighbours and excellent friend of Bangladesh.
Despite having good relation, the bilateral trade between Bangladesh and Sri Lanka is far from the expectation level.
In 2015-2016, Bangladesh imported from Sri Lanka were worth only US$45.016 million as against US$30.45 million exported to Sri Lanka.
In order to deepen the existing level of bilateral trade, sensitive product list under SAFTA needs to be revised, said the DCCI President.
Abul Kasem also stressed direct marine connectivity between Chittagong and Mongla ports with Colombo and Trincomalee ports.
He invited Sri Lankan investors to invest in gas-based industry, power, fertilizer, backward linkage of RMG, leather and leather goods, ICT, Education and tourism sector.
Minister Rishad Bathiudeen said Colombo and Hambantota seaports are geographically placed in an advantaged area.
He requested Bangladeshi exporters to use these ports to cut their shipping cost.
Regarding free trade agreement (FTA), the Sri Lankan Industry and Commerce Minister said Sri Lanka is willing to sign FTA with Bangladesh.
Sri Lankan High Commissioner Yasoja Gunasekera said many Sri Lankan companies already invested in Bangladesh.
To boost bilateral trade, chamber-to-chamber relation should be strengthened, she said requesting the DCCI and SLBCCI to send business delegations to Sri Lanka and sign a memorandum of understanding (MoU).
President of SLBCCI Najith Meewanage, DCCI Vice President Hossain A Sikder, Directors Engr. Akber Hakim, Hossain Akhter, Humayun Rashid, Imran Ahmed, K. Atique-e-Rabbani, FCA, KMN Manjurul Hoque, Md. Alauddin Malik and former Director of DCCI Rizwan Ur Rahman were present during the meeting.